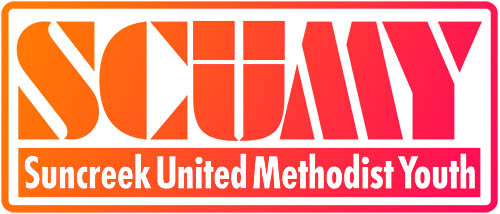 6th-12th Grade______________
Are you above high school age?
Volunteers are always needed.
Please contact Kimmi Cramer for more info at .
WEEKLY SCHEDULE___________
SCUMY Sunday Nights 7th-12th
Sundays, 5:30-7:00pm
The Bridge Bible Study 6th
Sundays, 5:30-7:00pm
Refresh Middle School Hangout
Wednesdays, 4-5:30pm
Recharge High School Bible Study
Wednesdays, 7-8:30pm
CONFIRMATION______________
Sundays at 11AM - Will begin in the Fall
Confirmation is a big step in your student's personal faith journey, getting him/her ready for a life of discipleship and Christian service. Confirmation prepares your 7th grader to claim the Christian faith as his/her own. The Confirmands spend a year together to learn about the meaning of Christian faith and the history and teachings of the United Methodist Church. Confirmands also receive an explanation of the baptismal and membership vows they will be professing on Confirmation Sunday in the spring. As part of the process, confirmands are paired with a faith partner, an adult mentor who helps assist the confirmand on their journey. In addition to weekly classes, your student will also participate in service projects within the church and our community.